Primer on Export Controls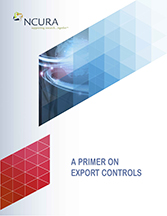 This publication provides a thorough introduction to the complex topic of export control laws and regulations. It's written in a straightforward manner. Topics include key definitions and concepts, which federal agencies oversee regulations, violations and penalties, fundamental research, licensing (and exceptions), international travel, and additional resources.
(30 pages, PDF)

Exclusively available online. Purchase and download the PDF. Once purchased the PDF will be available for download for 30 days. To purchase click the "Register" button.
Table of Contents
Introduction
Key Definitions and Concepts
Who Oversees Export Control Laws?
Department of State Regulations (ITAR)
Regulatory Authority and Scope
The USML Categories
Exporting under the ITAR
Department of Defense (DoD) Funding and Developmental Items
Department of Commerce Regulations (EAR)
Regulatory Authority and Scope
The Commerce Control List
Exporting Under the EAR
The 500 and 600 Series
License Exceptions
Anti-Boycott Restrictions
Department of Treasury Regulations (OFAC)
Regulatory Authority and Scope
OFAC Licensing for Country-based Programs
How Do I Determine What My Item Is?
Commodity Jurisdiction
Commodity Classification
Violations and Penalties
Fundamental Research
ECLs and Universities
How Do I Know if Export Controls Might Apply?
Type of Work Involved
Clauses that Can Nullify FRE
Equipment Involved
Parties Involved (Restricted Party Screening)
International Travel
Summary
Export Control Resources
30 pages, PDF
Register

Non-member - $41.95
Member - $34.95