International Research Collaborations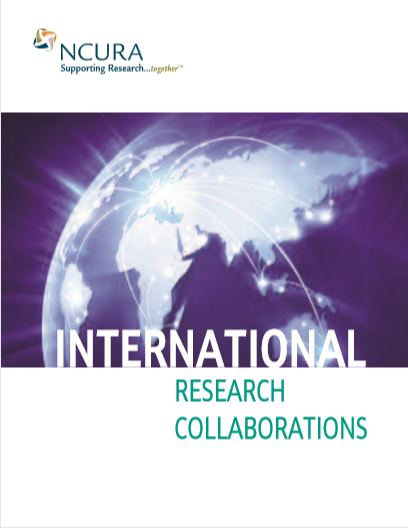 The purpose of this publication is to present an overview of common issues that arise in global research administration and provide suggestions and resources to senior leadership, research administrators, and faculty at U.S. institutions that support such activity; focusing on pre-award matters such as pre-planning and partnership feasibility, proposal development, and negotiation, as well as post-award issues around award management, regulatory requirements and compliance risks.
(35 pages, PDF)

Exclusively available online. Purchase and download the PDF. Once purchased the PDF will be available for download for 30 days. To purchase click the "Register" button.
Table of Contents
Chapter 1: Introduction

Glossary and Terminology
Why Collaborate Globally?
How to find the Right Partner and Funding Opportunity?
How to Communicate Effectively with Partners?
Chapter 2: Project Pre-planning

Partnership/Project Vision
Establishing Project Team Chemistry, Culture and Trust
Communication
Institutional Support for the Project
Leadership of the Project (Institutional and Researcher)
Project Feasibility, Funding Phasing and Eligibility Rules
Sponsor Engagement
Special Geographical Issues
Compliance Landscape
Agreements
Research or Development Project
Peer Advice
Chapter 3: Proposal Development

Lead Writer versus Team Writing
Reviewing One Draft versus Multiple Drafts
Suggested Changes versus Absolute "Must Haves"
Types of Agreements to Consider at the Proposal Stage
Budget Development for a Proposal
Direct Costs
Indirect Costs
Budgeting Equally versus Proportionally
Budget Tips for Proposal Stage
Chapter 4: Negotiation

Sponsor Type
Agreement Type
Award Negotiation: Roles and Key Considerations
International Collaborator
International Partner or Sponsor: Culture and Customs
Defining the Scope of Work
Establishing a negotiation process at your institution
Academic Issues
Chapter 5: Award Management

Type of Award Actions
Award Actions
Identification of Good Accounting Practices by the International Partner(s)
Managing the Terms and Conditions of the Award
Setting up the Subaward Accounts
Subaward Monitoring
Transferring Money
Closeout
Uniform Administrative Guidance (UG) and International Partners
Cost Principles and Cost Accounting Standards
Chapter 6: Regulatory and Compliance

General Regulatory Requirements
Unique Requirements and Considerations
Register

Non-member - $59.95
Member - $49.95