Administering Research Contracts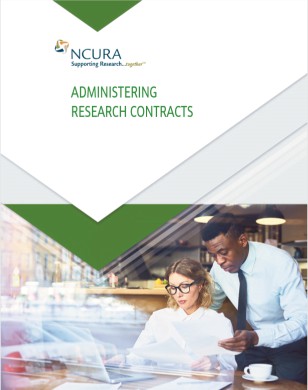 This publication delves into many of the issues associated with the administration of research contracts. It looks at how contracts differ from grants, from both federal and legal perspectives. It covers the structure of the Federal Acquisition Regulation (FAR), and how it can be used to a research administrator's advantage when negotiating federal contracts. It looks at some of the special challenges that can arise in negotiating contracts with government agencies and with the private sector, including subcontracts of federal funds via the private sector.
(22 pages, PDF)

Exclusively available online. Purchase and download the PDF. Once purchased the PDF will be available for download for 30 days. To purchase click the "Register" button.
Table of Contents
What is a 'Contract'?
Staffing and Communications
Effective Communications
Resources Required
Contracts at the Proposal Stage
Exceptions to Contract Terms
Representations and Certifications
Subcontracting Plan
Contracts and the Federal Acquisition Regulation (FAR)
Structure of the FAR
FAR Numbering System
Looking Up FAR Clauses
Contracts at the Negotiation/Execution Stage
Fixed-Price vs. Cost-Reimbursement Contracts
Terms and Conditions
Termination
Equipment
Cost Principles
Administrative Requirements
Subcontracts
Period of Performance
Audit Requirements
Negotiations
Contracts After the Award
FAR Clauses often seen in contracts
Stop-Work Order
Contracts with the Private Sector
Private-Sector Contracts under Private Funding
Private-Sector Contracts under Federal Funding
Inventions under Federal Subcontracts
Special Issues for Small Institutions
Conclusion
Register

Non-member - $41.95
Member - $34.95